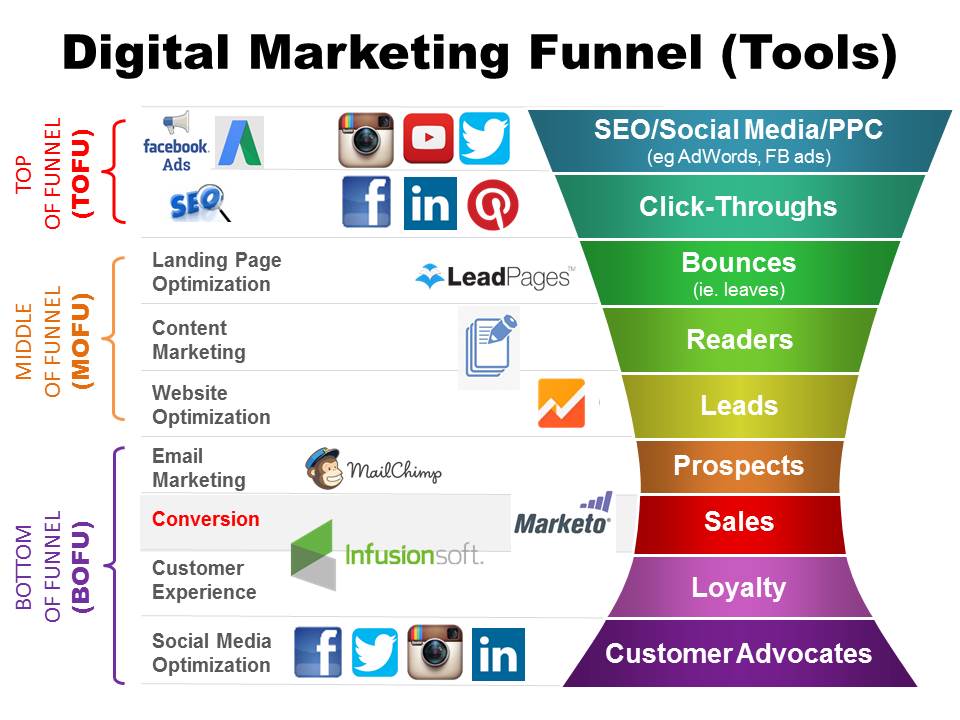 The marketing funnel is a visualization for understanding the process of turning leads into customers, as understood from a marketing (and sales) perspective. The idea is that, like a funnel, marketers cast a broad net to capture as many leads as possible, and then slowly nurture prospective customers through the purchasing decision, narrowing down these candidates in each stage of the funnel.
Marketing funnel stages and conversions
Awareness: Awareness is the uppermost stage of the marketing funnel. Potential customers are drawn into this stage through marketing campaigns and consumer research and discovery. Trust and thought leadership is established with events, advertising, trade shows, content (blog posts, infographics, etc.), webinars, direct mail, viral campaigns, social media, search, media mentions, and more. Here, lead generation takes place, as information is collected and leads are pulled into a lead management system for nurturing further down the funnel.
Goal: To show the value of your product or service, provide educational content and build a relationship with your subscriber.
Do: Educate, be helpful.
Don't: Sell, give specific details of your products/services too much, try to get your subscribers to purchase.
Interest: Once leads are generated, they move on to the interest stage, where they learn more about the company, its products, and any helpful information and research it provides. Here is an opportunity for brands to develop a relationship with the people in its lead database and introduce its positioning. Marketers can nurture leads through emails, content that is more targeted around industries and brands, classes, newsletters, and more.
Goal: To build a deeper relationship with your subscriber, introduce them to your product/service and nurture them with contextual or targeted content.
Do: Provide educational content tailored to your subscriber, deliver content that is product specific, be helpful.
Don't: Be too salesy, send content that isn't applicable to your subscriber.
Consideration: In the consideration stage, leads have been changed into marketing qualified leads and are seen as prospective customers. Marketers can send prospects more information about products and offers through automated email campaigns, while continuing to nurture them with targeted content, case studies, free trials, and more.
Goal: To convince your subscriber to purchase.
Do: Talk about the benefits of your product/service, show off your product/service, offer discounts and promotions to convince subscribers to purchase, create a sense of urgency to compel subscribers to purchase right away.
Don't: Overwhelm subscribers with sales assets and sales calls.
Intent: To get to the intent stage, prospects must demonstrate that they are interested in buying a brand's product. This can happen in a survey, after a product demo, or when a product is placed in the shopping cart on an ecommerce website. This is an opportunity for marketers to make a strong case for why their product is the best choice for a buyer.
Evaluation: In the evaluation stage, buyers are making a final decision about whether or not to buy a brand's product or services. Typically, marketing and sales work together closely to nurture the decision-making process and convince the buyer that their brand's product is the best choice.
Purchase: You're here! This is the last stage in the marketing funnel, where a prospect has made the decision to buy and turns into a customer. This is where sales takes care of the purchase transaction. A positive experience on the part of the buyer can lead to referrals that fuel the top of the marketing funnel, and the process begins again.
The customer experience funnel explained
We've distilled the most important stages of the customer experience funnel and explained them below.
Repeat: After a customer has made a purchase, the next step is to make them a repeat customer. This means improving retention and nurturing customers to make more and bigger purchases. Marketers continue bottom of funnel activities to encourage repeat actions by the consumer.
Loyalty: In the loyalty stage, customers develop a preference for a brand, beginning to identify with it and personalize products. This is where engagement is key, and marketers can help nurture this personal connection to a brand through community development, engagement, and outreach.
Goal: To retain your customers and instill loyalty by delighting subscribers with helpful content and awesome service.
Do: Give helpful information, send educational content relevant to your customers.
Don't: Stop interacting with your customers or adding value.
Referral: Once a customer is loyal to a brand, they are more likely to provide business referrals and recommend brand products.
Advocacy: Turning your customers into advocates is the ultimate evolution for nurturing current customers. Evangelism in the form of writing product reviews, posting about products on social media, and more can help drive more new leads for your marketing funnel. Having an external recommendation not connected to a brand can strongly influence prospects. Marketers can work to develop their communities to better support advocates, ask them to participate in case studies, or engage them around consumer-generated content on social media.
Goal: To turn your customers into fans who talk about your company and refer you to their friends.
Do: Connect with your loyal customers, keep delighting your customers with awesome content and service.
Don't: Forget about your customers.